10 great adventure ideas when staying at Spencer Lodge Estate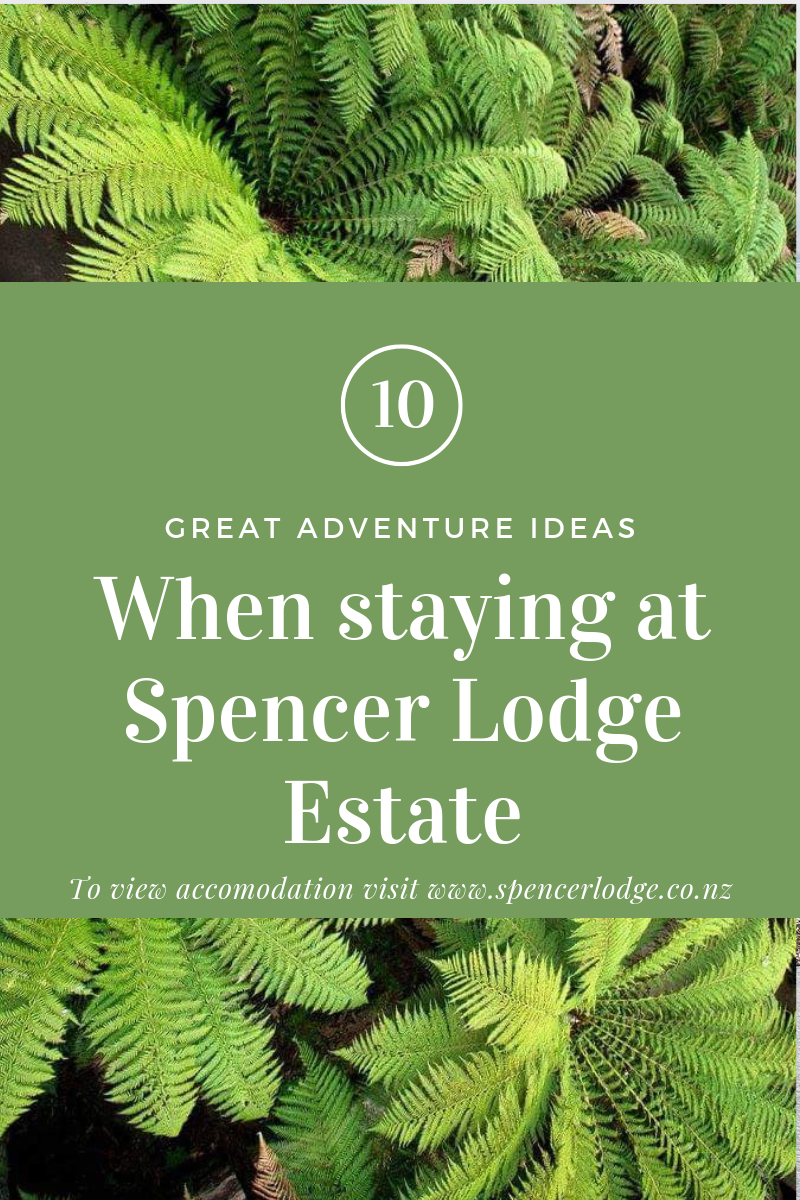 Lake Tarawera, situated under the sleeping Mount Tarawera, is one of the most remote and beautiful lakes within the Rotorua system.
Lake Tarawera holds impressive numbers of very large rainbow trout, many of which reach and exceed that magical 10 pound (4.5 kg) mark. Fish over 6kg are also regularly caught. Popular methods are fly, trolling, sinking and jigging. We have many local guides that assist you if desired.
We have a great water taxi service that can take you across to the base of the Mountain to hot water beach. The water is heated by the volcano and if you are lucky enough to catch a rainbow trout you can place it in an oven bag, dig a hole in the sand and cook it. There is also a natural hot pool to soak in.
The water taxi can also drop you off at the Tarawera Falls track where you can follow the Tarawera River until it disappears down a sink hole. Then follow the track down to where the river reappears as a water fall out the cliff face, a spectacular site. Then return to where the water taxi will arrive to pick you up and bring you back.
This is a challenging detour off the Eastern Okataina Walkway. It is mostly off track with only basic markers. Good routefinding skills required but the reward is the opportunity to visit these huge and ancient trees. The Rata known as The Phantom is reputedly New Zealand's biggest Northern Rata Tree with a trunk diameter of 4.5m. We have a local guide who can lead the way if required.
Rafting on the Kaituna River really is the rafting thrill of a lifetime. The Kaituna River is simply awesome. It takes about 50-minutes to get down, passing through 14 phenomenal rapids including going down the spectacular seven-metre Tutea Falls, the largest commercially rafted waterfall!
We are lucky to have a local lady (Lucy Playne, owner of horse trekking lake Okereka) who is extemely skilled with horses and operates a horse trekking business which offers spectacular treks enjoying breathtaking views of the lakes in the area. There are various treks to choose from usually running twice daily around 10am and 1pm.
Visit Te Puia, a top Rotorua attraction in New Zealand and centre for Māori cultural experiences, geothermal valley with famous geysers, guided tours & more.The Pōhutu ('poor-hoo-too') geyser is the star of the show, it is the largest active geyser in the southern hemisphere. She erupts once or twice every hour and sometimes reaches heights of 30 metres (100 feet). Pōhutu means 'constant splashing' in Māori.
The redwood forest is most well known for the network of superb mountain biking and walking tracks and for the magnificent stand of Californian Coast Redwoods. Well worth a visit, with the a recent addition of the tree walk,  a 700 metre walk up amongst the trees across 28 suspension bridges. They also do a night walk illuminated by 30 lanterns designed by world acclaimed designer, David Trubridge.
Kayaking
If you would like to kayak around the lake and investigate the wildlife along the shoreline and the beautiful natural surroundings we have a number of kayaks available for guests to use by arrangement. Take a fishing rod, or a picnic and enjoy.
The Buried Village is New Zealand's most visited Archaeological Site, where stories of the 1886 Mt Tarawera Eruption come to life. Te Wairoa was established by the Christian missionary in 1848 as a model village, but survived for fewer than 40 years before it, and the nearby Pink and White Terraces were obliterated by the eruption of Mt Tarawera. There is also a walk to a lovely waterfall. A coffee shop and gift shop.