"Big Moves plan for Whakarewarewa Forest
August 8. 2019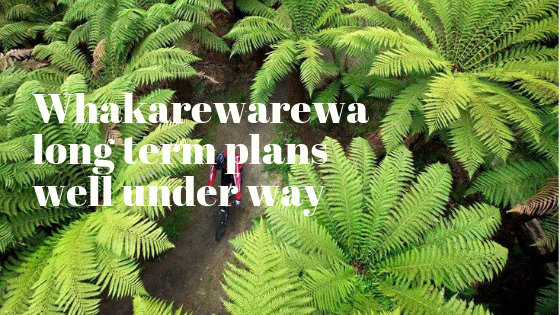 PROGRESS UNDERWAY AT WHAKAREWAREA FOREST 
Progress for stage two of the "Big Move" as it's been named is well under way. The project is one of four transformational "big moves" being planned for the outer perimeter of Rotorua's CBD. When complete, a looped trail will connect all four projects, linking the people of Rotorua, and our visitors, to our parks, lake fronts, ecology and forest trails.
Stage two along Tarawera Road, is the establishment of a new Bike Hub with public car park and roading entry off Tarawera Road half way between Long Mile Road and Lake Tikitapu (blue lake). This will provide a third entrance way to the forest. The project sees establishment of a public car park able to accommodate 100 cars and will include a bike washing station and public toilet facilities.
DID YOU KNOW
Whakarewarea Forest is one of Rotorua's most spectacular natural assets and one of the city's greatest treasures largely because of the history and culture that surrounds it. This natural landscape features a diverse range of exotic tree species and native undergrowth providing locals and visitors with a variety of outdoor recreational opportunities, panoramic views and close proximity to lakes, thermal reserves and the city centre. Covering 5,600 hectares, the forest is most well known for the network of superb mountain biking and walking tracks that have largely been developed by locals and the awesome redwood trees that dominate the entrance to the forest.