Royal visit to Rotorua Redwood Forest
How fantastic that Harry and Megan visited Rotorua during their visit to New Zealand recently. It turned out to be a lovely day and the sun shone on the Royals throughout the day.
The Duke and Duchess visited Rotorua's Redwoods Treewalk walking along the 700m long walkway of bridges suspended above the 117-year-old forest. The redwoods really are spectacular and only a 15 minute drive from Spencer Lodge.
The royal couple learnt about the history of the forest while they walked along the treewalk and met with local biking representatives to discuss the facility. 
After the treewalk, Harry and Meghan held hands as they walked through the redwood forest at ground level, stopping to admire a spectacularly clear blue pool ringed by ponga ferns.
Shortly afterwards, a group of mountain bikers of all ages rides past to a table of waiting drinks, where they meet the royals, Meghan greeting bikers with a "kia ora". She was gifted a soft-toy tuatara, which she squeezed, the commented, "Oh, it makes a noise."
Meghan asked: "Do you usually have refreshments waiting at the end of the ride?" The bikers laughed and admitted it was just on this trip they'd experienced the perk.
Harry asked the riders, "Do you know how lucky you are to have a place like this?" Meghan added, "this place is your backyard. It's great. It's really special. Beautiful."
Harry also joked to biker Tuhoto-Ariki Pene, 17, our national downhill champ, about the black leather shoes he was wearing with his riding gear, quipping, "someone said smart casual?"
The Maketu biker later said: "He said, 'You look like a professional!' I said, 'You caught me out this time.' I raced in the weekend so my gear wasn't clean."
The royals expressed their regret that they didn't have a chance to ride themselves but hoped to be back.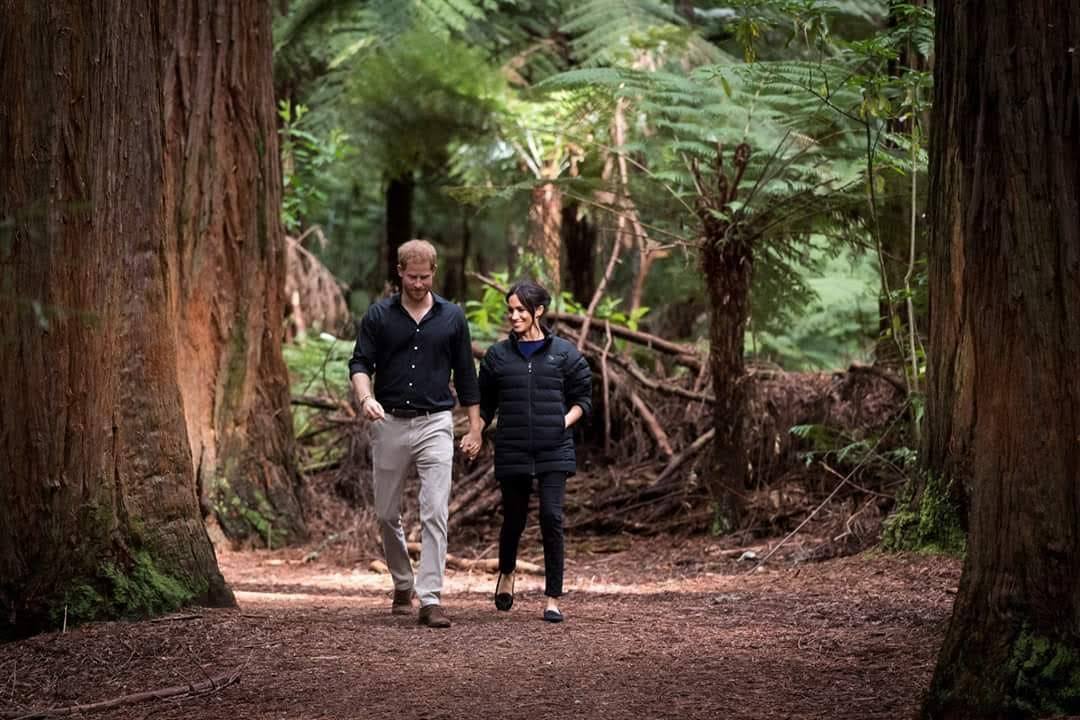 As they left, Harry said, "Bye, guys, enjoy this heaven." They walked away holding hands through the redwoods.