The Reverend Seymour Mills Spencer - Lake Tarawera
July 22. 2019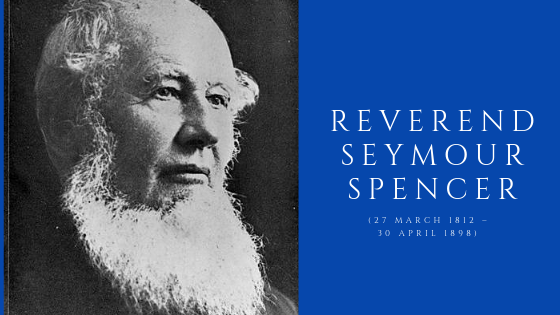 It was the year 1840, the same year British colonists had arrived in New Zealand and signed the treaty of Waintangi, when Seymour Mills Spencer, aged 28, made the decision to up sticks from his home town of Hartford in Connecticut and undertake a life mission to the Maories in New Zealand. Who knows what lead to this decision, especially as Seymour and his wife Ellen had not long had a daughter and they were advised that a new baby may not survive the long voyages that lay ahead of them. So the baby girl was left with childless friends. Maybe he wanted to escape the mass migration of Irish Catholics fleeing the potato famine and flowing into his home town of Hartford with all the resulting upheaval and changes happening at the time.
The first stage of their travels took them to England and whilst there Seymour attended college and changed his church affiliation from Baptist to Anglican. During this time Ellen engaged in parish work and learned all she could about the care of sick and injured, knowing she would have a need for such knowledge in the years ahead.  They both learnt the Maori language and some of the customs of the Maori people. They set sail for New Zealand on 17 January 1842 sailing on the vessel Louise Campbell. Ellen was pregnant. The arduous journey took around four months through rough seas, cramped conditions and illness. Ellen gave birth to a baby girl 8 days before they eventually arrived in Auckland.
They struggled on with very little money for 16 months before Seymour was ordained to be the Deacon for the district of Taupo on 24 September 1843. Less than 2 months later the couple had to move due to a scandal over Seymours alleged advances toward a Maori girl. The couple moved from Taupo to Rotorua.
From 23 November 1843 he worked under the Church Mission Society missionary Thomas Chapman at the recently established CMS mission station at Te Ngae in Rotorua.
In 1844 the couple established the first missionary post at Lake Tarawera working with the local Māori. In 1848 they built a European-styled community called Te Wairoa. In 1844 Spencer was suspended from the CMS again for being inappropriate with a Māori woman. He rejoined the CMS in 1849 and was stationed at Opotiki until about 1855. By this stage Ellen had given birth to 9 children in total.
It has to be pointed out that the CMS were not immune to moral blemishes, not surprising with so much bare flesh on show, but these men and women went to extraordinary lengths to bring Christianity and 'civilisation' to Maori. The early years were largely unsuccessful for missionaries in terms of saving souls; as points of contact for trade as well as a source of new ideas, missionaries had a huge impact on many Maori communities. Their introduction of the written word and the development of a written Maori language represented a massive change.
Sometime after 1855 Seymour and Ellen returned to the Te Wairoa mission and remained there until 1870. Seymour visited Rotomahana and Te Ariki many times during his 35-year term with the CMS. His work with the local Māori helped develop the area, and he was also instrumental in assisting explorers and traders in the vicinity of Rotorua and Lake Tarawera
When Ellen passed away in 1882 at the age of 65, her remains were taken from Maketu by the Maoris back to Lake Tarawera, where the Spencers had lived and laboured as missionaries among the Tuhourangis tribe. There, she was buried at Kariri, where the Spencer's had made their home for ten years. Four years later, on 10 Jun 1886, the eruption of Mount Tarawera buried Kariri and surroundings under mud and debris, killing 153 persons and destroying Maori villages. The surviving Maoris fled the Tarawera area. When Seymour Mills Spencer died in 1898, he was buried in Maketu away from his wife--the gravestone also has his wife's name. His youngest son, Frederick Spencer, conceived the idea of building a Spencer Family Mausoleum at Kariri, consequently Seymour's remains were disinterred and taken to Kariri Point for the dedication ceremonies, 20 Feb 1924 where the Spencer mausoleum is sited.